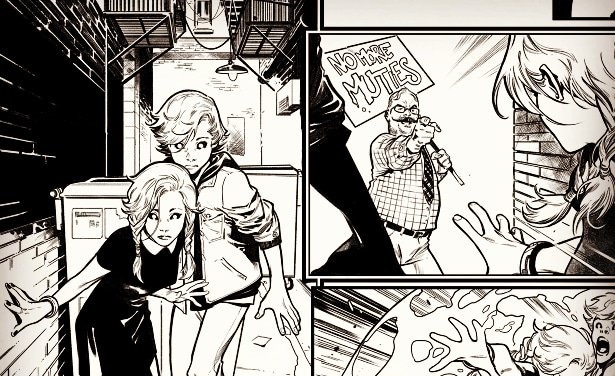 Todo parece indicar que los hermanos Strucker, protagonistas de la serie The Gifted, podrían pasar a las páginas de Marvel Comics durante el próximo evento de la editorial, Extermination.
Pepe Larraz, dibujante del evento, compartió algunos dibujos del comic a través de Twitter y las viñetas muestran a dos chicos que se asemejan bastante a los Strucker. Como se puede ver, ambos están siendo acosados por un manifestante anti-mutante, hasta que la chica parece lanzar lo que es un campo de fuerza.
Si aún no vieron la serie, Lauren y Andy Strucker son hermanos con poderes mutantes y protagonizan la serie The Gifted (con Natalie Alyn Lind y Percy Hynes White dando vida a los hermanos). Al igual que vemos en las viñetas de Larraz, la chica mutante tiene un poder similar al de Lauren en la serie, capaz de generar campos de fuerza, es por ello que podríamos estar frente a su version en los comics.
But who are these kids? #xmen #extermination #preview #mutants #marvel #comics #digitalart #pepelarraz #clipstudio @edbrisson @cracksh0t @Marvel pic.twitter.com/Vj6qrxhNTV

— Pepe Larraz (@PepeLarraz) 11 de junio de 2018